Introduction
The old templates which determined the page layout and "look" of the site are not compatible with the later versions of the software, so it will take a while to get back to the layout and look and feel of the site.     Ray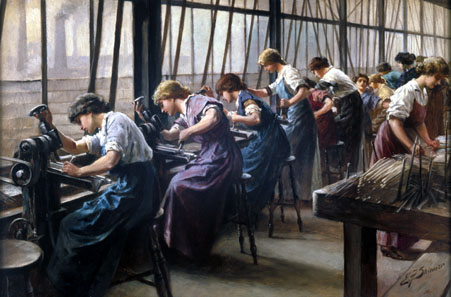 File Cutting at the Cyclops Works Sheffield 1914-1918 by EF Skinner
---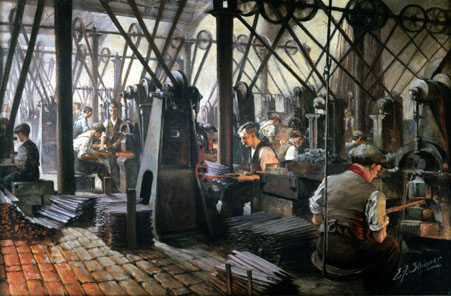 File Forging at the Cyclops Works Sheffield 1914-1918 by EF Skinner
These, somewhat idealised images, were produced as a part of a series of postcards for sale, by Cammell Laird, and proceeds went to the Red Cross war effort. I doubt that working conditions were anything like that portrayed, but I like the paintings, it conveys some sense of what it might have been like working in one of the large saw makers's factories around the early part of the 20th Century. Just about every large saw maker also made files. They used some of the files produced in their own saw manufacturing, after which used files were re-introduced into the steel making processes.

This site is all about woodworking handsaws, There has been a resurgence of interest in woodworking with hand tools and consequent proliferation of high quality handtool makers. When the powered circular saw became popular, the availability of quality handsaws decreased. Now there are a number of companies dedicated to re-capturing the high quality of early saws. Mike Wenzloff and Sons are one such example.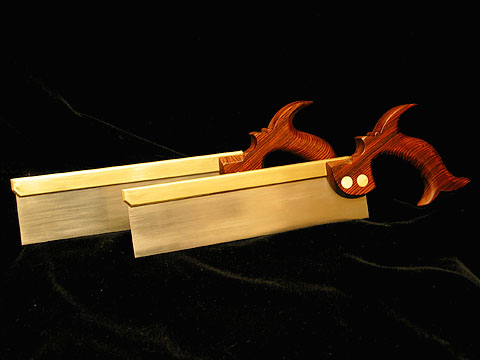 The saw that started it all, back in the 1990's, when Peter Taran and Patrick Leach, fed up with the poor quality saws available, decided to make their own, inspired by a R.Groves & Sons dovetail saw, later they sold to Lie Nielsen who continue to make this beautiful saw available.

My aim with this web site is to bring a sense of appreciation for the skill and craftsmanship of the 19th Century British saw makers. How some of what they knew and took for granted has been lost, and now is being re-discovered. I hope this site can further some of that research, into things like how to taper grind saw blades, some non-traditional saw filing and other saw-related stuff, that seems worthy of investigation.
Regular visitors to the site will be already aware of Simon Barley's long anticipated new book on British Saws and Saw makers from 1660.  The standard reference for many years has been Handsaw Makers of Britain,  by Erwin L Schaffer and Don McConnell,  abbreviated as HSMOB.   British Saws and Saw Makers  (abbreviated as BSSM),  will rapidly become the new standard reference work.    It's not easy for someone new to the somewhat arcane world of researching British saw makers to really appreciate fully the amount of work that goes into creating such a reference work.  The many thousands of hours of painstaking trawling through trade directories and publications of the time.  Organizing thousands of details into a coherent whole.
Our congratulations go to Simon Barley for a truly outstanding contribution to research on British saws and sawmakers.  I commend the book to anyone interested in the history of toolmaking.
Regular updates on the book with reviews, additions, errata and revisions will be available on here as the need arises.  Feedback and questions for Simon may be posted in the forum as usual.
The details of how to purchase the book can be found on the TATHS web site http://www.taths.org.uk/barley-saws.htm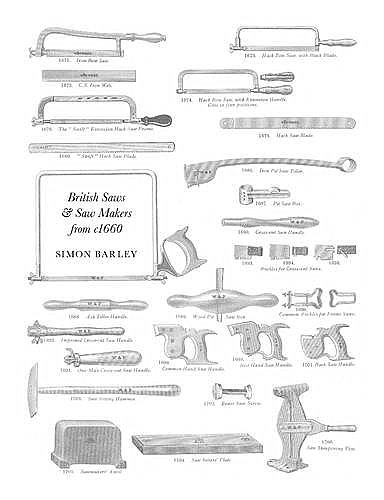 Historians of the various tool trades have long wanted a work specifically on saws and this, the first, is an attempt to match the detail and scholarship of the best that cover planes, cutlery, spanners and measuring tools. The author is a frequent writer and lecturer on saws and the history of their manufacture, and is able to base his work on 15 years of original research and the building of a personal collection of saws - possibly the largest in the world - which is housed with the renowned Ken Hawley Collection in Sheffield's Kelham Island Industrial Museum. Together, these collections form a unique research base and visitor attraction. This scholarly book is illustrated with almost 2000 photographs, the majority by the author, and with its listings of saw makers and dealers forms the most comprehensive directory to date of British names in the tool trades.